My name is Denis Lozenko, I am the founder of the global construction company ECOLIT and I will tell you how we invented a revolutionary solution for insulating a cold steel frame. I am pleased to present this technology in the Irish market.
Thanks to modern legislation and care for the environment, we have the opportunity to make a contribution to energy saving, while keeping the proper comfort and sense of a full-fledged housing for our potential customers.
Let me tell you a bit about our technology and future in Ireland.
Since we live in an era of natural disasters and a rapidly changing climate, many people have a distrust of the frame type of construction due to the fragility of structures.
My team and I have been looking for a solution to this problem for a long time. We wanted to create the effect of a solid monolithic building.
We started experimenting with pouring concrete into the body of the framing wall. Here we are faced with such a phenomenon as metal corrosion.
In a normal situation, zinc coating on steel protects it from corrosion, but prolonged contact with ordinary concrete constantly causes corrosion and, as a result, subsequent destruction.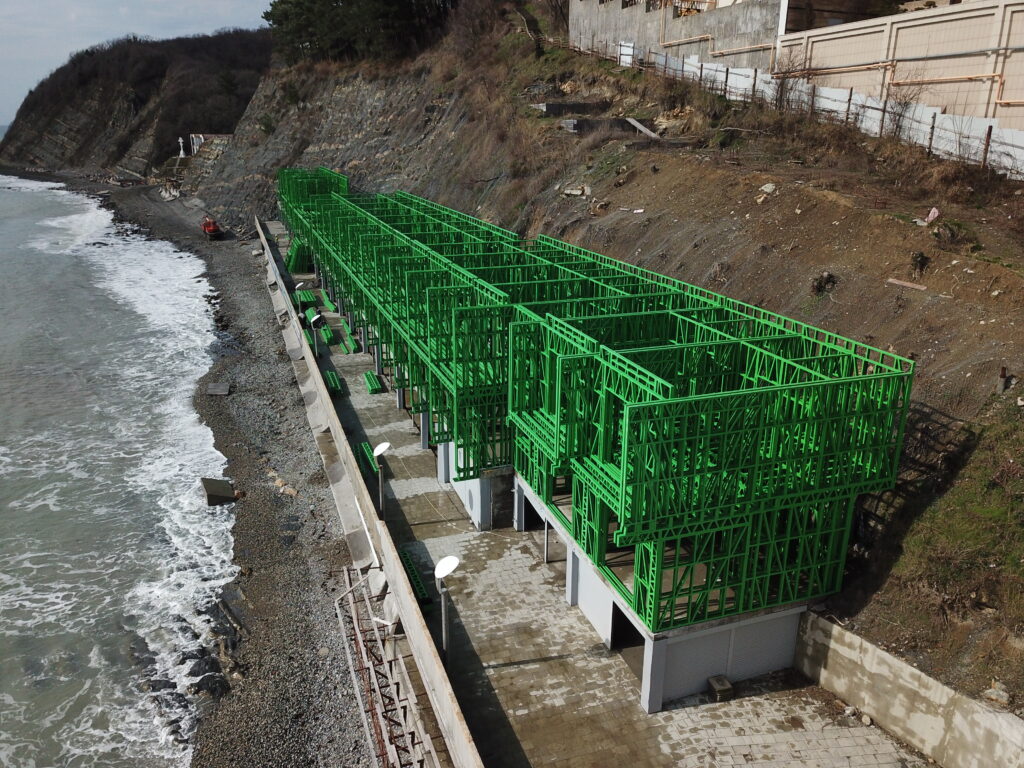 From our tests over the years, we eventually made an achievement of creating a modified foam concrete solution. This is our very eco-friendly dry mix that reduces its carbon footprint in use by up to 70 per cent. So, it is the future of eco-friendly building systems.
This dry mix is supplied from our factory and is mixed with only water directly on the construction site from our proprietary ECOLIT mobile machines. Transparency and progress can easily be achieved and shown onsite to clients.
After thoroughly mixing where the resulting mixture increases several times and is ready for use. Our application of up to three m3 per hour by two men can easily be achieved in an application of 400 mm into the ECOLIT light gauge steel walls.
It is let dry and then continued the following day until the wall plate is reached.
The result is our light gauge steel frame protected by our light weight foam concrete shell. This both creates a thermal bridge free construction detail and a feeling of a solid monolithic or a concrete building but built as quickly as a panellised framing building system.
In this case the costs of the building are the same as with a framed building externally insulated with mineral wool, polyurethane and other insulation methods.
With our company of over 15 years of experience in this construction methods I can confidently showcase our systems advantages over other building systems.
ECOLIT light weight foam concrete is proven by tests and established projects as an eternal material not affected by time. It is an inert material and is found in abundance in the ground.
This characteristic has shown to be a highly proven system to fire resistance for buildings above three stories. It is also very moisture resistant. It is light weight yet extremely strong and will not move or settle as with other building methods.
I will also mention more of its main benefits to the end user:
Micro climate efficiency. Does not ingress dampness, cold in the winter or heat in the summer.
High and accurate speed of construction and infill of walls and floors.
High sound absorbing walls and floors with a feeling of concrete.
Environmental friendliness – foam concrete does not emit toxic substances.
Ease of processing allows you to bring to life the most daring design decisions.
Efficiency – the cost of foam concrete is much lower than other technologies, but, in addition, thanks to its lightweight, it is possible to save on the foundation and on transportation.
The first degree of fire resistance.
Foam concrete goes well with any other material.
Our ECOLIT light weight foam concrete has a unique mixture which is been constantly improved.
Our ECOLIT technology is a patent pending system.
If you are interested in our technology, then you can always contact me and I will tell you in detail all the nuances, as well as how you can become our partner and use foam concrete at your construction site.
Denis Lozenko
CEO and International Business Development
PH:0971585351788
Mark Farrelly
Business Development and Technical Director in Ireland
PH:00353877043057